Most women have a wide variety of secret sexual fantasies that men do not know about. She may seem like a sweet girl, but she just might be waiting for you to tie her down and spank her with a paddle. What would be great is if she told you these sexual fantasies. But, in most relationships, that never happens.
First, understand that men, and women, fantasize a lot. Despite of all our uniqueness, there are several common sexual fantasies that many of us, including women, dream of. These include:
Slave
Threesome
Solo / Mutual Masturbation
Fairy Tale
Homemade Porn
Public Places
The Stranger
Spin the Bottle / Roulette
Regardless of what you think you might know, many women like to be cuffed, pulled by the hair & spanked. If your lady is into one of these fantasies, then the master & slave dynamic is the perfect sexual fantasy for you.
First gently grab her wrists and tie them with a necktie or a rope. Now you've got some freedom and it's the time to start exploring her entire body. To get warmed up, spank her ass gently and check her response – if she is moaning and making hot, encouraging sounds; spank her again. Start to pull her hair back while you kiss her as things begin to heat up. Begin to touch & slap her face with your penis and let her play with it in her mouth. After all, she is your slave and she must do what you say.
After a couple of minutes, head down to her breasts. Play around with her nipples. Any game you want to play here is good. Take your time throughout, there's no rush. Progress to biting her nipples gently (you will know if she likes it by her moaning). The important thing here is to make it clear that you are the boss giving or taking away her pleasure. If the both of you are enjoying this, it is time to take it to the next level.
Speak with her & be very open. Ask her if she would like to experience a threesome and which gender she would like to add to your couple. Let her tell you any concerns that she has – it is better to be certain than to ruin a good relationship. Even if a woman dreams about hot threesome sex, it can be a completely different story when the threesome involves her boyfriend. She can feel insecure, threatened by the other person or feel unfaithful while engaging in sexual acts with a new partner. Lay all the cards out on the table. Then, if she says yes, you can move forward and invite somebody over for a magical night.
When the time comes, try to create a casual atmosphere to help break the ice. Don't be pushy to get into the action, let things flow naturally. To heat everyone up, you can watch an erotic movie. When things start to get hot, gently touch her neck, shoulders, back and when all of you are relaxed, make the first move & kiss them. It is possible that you won't have to make the first move at all, if the atmosphere is hot already. But to follow the rhythm of the game, when playing in a trio, share your attention equally.
The porn industry makes millions on this fantasy every year and for good reason. To be conquered by a stranger is such an erotic dream for so many women. To make it entertaining, dress differently than usual and be an actor for that night. Pretending to be a stranger while exploring her body for the "first time" will be an amazing experience for the both of you.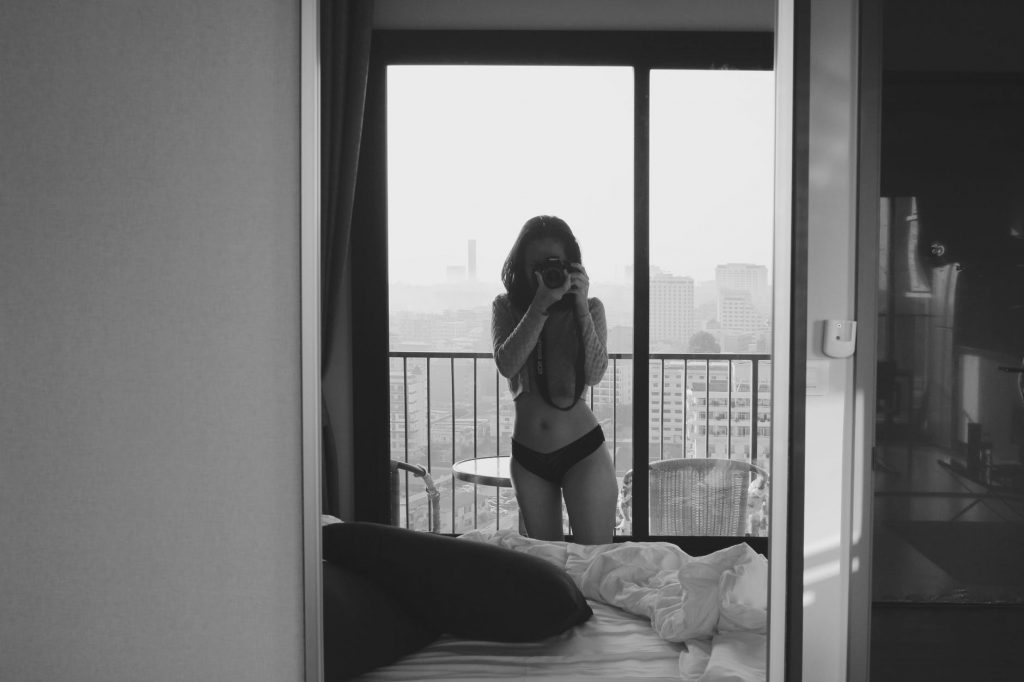 The simplest start to this fantasy can be this bit of discussion: "Hello beautiful, my name is John, what's yours?" and then continue the innocent dialog like this: "I have never seen such gorgeous lips, can I kiss them?" I am 100 percent sure she will go along with your game and soon enough you will be two strangers discovering each other's most secret places. From here, there are so many roles for this fantasy that you can use. Be a plumber, a computer technician, house renovator, a car mechanic, a neighbor who came to borrow some salt or a lost person, asking for directions.
Another prime sexual fantasy is all about having sex in public, sharpening your senses & feeling the fear of being caught. Plus, the taboo of breaking the law adds to the fantasy and all these senses together may lead you both to the highest notes of orgasm. So, now the most important question is, where?
One of the best ideas for this fantasy is to make your bedroom more public by making her feel like she's being watched. What you can do is to create some voyeuristic scene setting. Turn all the lights on in the night, leave the curtains open and whisper to her that all the neighbors love to peek in. Tell her that this room can be perfectly seen from the street and the surrounding houses. Imagination is the most powerful turn-on.
Naturally, any woman will be a bit shy to offer a solo show, so in this sexual fantasy you must bring it up, sit in the director's chair and make her fly solo. Stimulating herself as you watch will be an amazing scenario for both of you. First, she will show you how she likes it done, so appreciate it as a private lesson. Second, well, you will understand when you see the show. Turning you on while playing with herself, reaching orgasm and feeling incredibly sexy. There are no words needed for this incredible feeling. You are probably already thinking of ideas how to make it happen right?
During foreplay, gently take her hand and lead it to her clitoris. Put her hand under yours, while you gently and slowly move both hands, playing with her clit. Do it for some time and then remove your hand, while you let her play with her fingers in this hot and wet paradise. As she does this, start to slide your hands all over her body while you touch, kiss, and bite whatever you want. If you just want to watch, then stay in front of her. You can also begin to reciprocate the action. Many women agree that a man servicing himself is one of the best visuals she can have.
Dovetailing off of this fantasy, being an actress in her own personal movie is one of the best sexual fantasies you can explore together. And watching it again will be even better. Before shooting the movie, let her get used to the camera. Take some pictures of her while she is taking her clothes off, touching herself or laying in sexy poses. Be sure to make them black and white, since women are crazy about their looks. Without a porn-industry make up, They will see three million small red spots, wrinkles, or (god forbid!) any sign of cellulite on their bodies. So, please, make it black and white. When it's done, watch it together. This review probably will end with some more steamy sex.
Finally, take note of her cues. Listen to her sounds, read her body language & don't get lost in your own pleasure. The point of these games are to make her head spin around and, of course, make her want more and more sex with her fantastic sexual partner, who happens to be you.
To be sure she is having a good time, you can do a very simple trick. At any time during the fantasy, kiss her ear & ask her in a silent, gentle voice if she likes it. For example, in master-slave play you can ask her if she is a bad girl and wants it harder.
Trust me, it's better to ask and get consent than to continue doing something that she doesn't want to do. Follow these tips and you'll be sure to have a great time in no time.
Ettore Mazzei is the author of Fit & Sexed.